1896-1944
Both Czech and Christian, she was the second great love of Kafka's life. She was to achieve world fame due to the letters they exchanged. She was the daughter of Jan Jesenský, a professor of dental surgery in Prague. A handsome man, Jesenský was a well-known member of Czech high society. Milena lost her mother at the age of thirteen. She attended the Minerva high school, the first private Czech high school for girls, from which emerged the first emancipated women intellectuals championing a new, freethinking lifestyle. Erratic family circumstances and the emancipatory views of the Czech-German Prague intelligentsia brought this vivacious, energetic and flighty young woman who had a taste for risk into open conflict with society.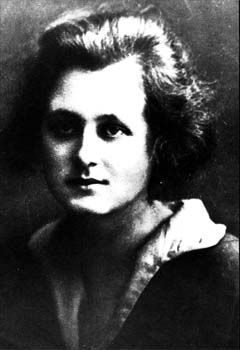 In 1917, as a result of her lax behaviour and moral misconduct, her father had her confined for nine months in the Veleslavín insane asylum on the grounds of 'moral insanity'. At the time she was having an affair with Ernst Pollak, a bank clerk from the provincial town of Jičín, well-versed in music and literature, whom she married when she came of age at 21 and left with for Vienna. Ernst Pollak, dubbed 'Kenner (wise guy) Pollak' was a member of Franz Werfel's circle at the Arco Café in Prague that Kafka would occasionally join. It was most likely there that Kafka first met Milena, although it was only a passing acquaintance. In Vienna, Pollak dominated the table of the regular clients at the Herrenhof Café, where even leading Austrian literati such as Hermann Broch sought him out for advice and assistance. In Vienna, Pollak also publicized the work of the then little-known Prague writer, Franz Kafka. It was he who brought Kafka to the attention of Milena Jesenská. By then her German was good enough for her to try her hand at translating shorter German texts and German translations of non-German authors into Czech. She started to send her translations to Czech newspapers and magazines, where a number of her friend worked as journalists. Kafka's story The Stoker was not the first work by a German author she had tried translating. As she was wont to do, she made written contact with the author about the translation of The Stoker, and their correspondence developed into an 'epistolary novel'. Kafka also had marital designs on Milena. Throughout 1920 letters streamed back and forth between the north Italian spa of Merano, where Kafka was convalescing, and Vienna, where Milena was living in a less than happy marriage. On two occasions they met in person. Their first meeting, in Vienna, was happy and full of promise, their second, in the frontier town of Gmünd, culminated with a lapse on Kafka's part and marked a hiatus in their relationship. On the one hand, they were poorly matched temperamentally, and on the other, Milena was unwilling to abandon Ernst Pollak, whom she loved in spite of their marital difficulties. Kafka's relationship with Milena ended like the two previous ones. Out of it came Kafka's Letters to Milena, an outstanding feat of letter writing, and Milena's translations of Kafka, the first ever into a foreign language.
Milena went on to make her name as a journalist and led a very eventful life alongside a number of remarkable men. She was active in many fields and her views underwent considerable change. Towards the end of her life she courageously used her writing skills in the struggle against fascist violence before meeting her death in Ravensbrück concentration camp in 1944.