Experience the Exhibition
The Franz Kafka Museum opened in the summer of 2005 in the remarkable Herget Brickworks building on the Lesser-Town bank of the Vltava River.
Franz Kafka was born in Prague on 3 July 1883, died in a sanatorium in Kierling on 3 June 1924, and was buried in the New Jewish Cemetery in Prague – Strašnice on 11 June.

The exhibition consists of two sections – Existential Space and Imaginary Topography.
KAFKA IN PRAGUE. Existential Space
The first stage of our immersion into Kafka's world presents the way Prague shaped the author's life, the mark it left on him and how its transformative power affected him. His diaries and extensive correspondence with family members, friends, lovers and publishers bear witness to this influence.
Our challenge is to try and capture the main conflicts in Franz Kafka's life and be guided by the author's views.
PRAGUE IN KAFKA. Imaginary Topography
               The way in which Kafka depicts his city presents one of the most enigmatic approaches in modern literature. With only occasional exceptions, Kafka does not name the places he describes in his novels and stories.
Quite often we can observe attempts to prove that Kafka's fictional works take place in Prague. It is generally understood that the anonymous cathedral in The Trial is none other than St. Vitus Cathedral; that the path taken by Joseph K. in the last chapter of the same book goes from the Old Town, across Charles Bridge to the outer limits of the Lesser Town. It is also said that the view from Bendemann's window in The Judgment features the embankment, the Vltava River and its opposite bank in the same manner as it can be seen from the Mikulášská Street (today's Pařížská Street), where Kafka's family lived in 1912. Efforts have been made to prove that Prague's topography is ever present despite going unnamed.
It is, however, not important. Kafka's surreal architecture strives for other goals. The method in Kafka's fiction is much more complex: he transforms Prague into an imaginary topography. The city takes a step back, and is no longer recognizable by its buildings, bridges and monuments. It is no longer important to identify a particular office, primary or secondary school, university, church, prison or castle, as these structures function in the role of metaphors and allegorical places.
© Franz Kafka Museum 2014 ; Author: Jan Trakal
This long-term exhibition takes us into the world of Franz Kafka (1883-1924), born in Prague and one of the greatest figures of 20th century world literature.
The exhibition presents:
most of the first editions of Kafka's works
letters, diaries, manuscripts, photographs and drawings never before displayed in Prague
3-D installations
five audiovisual pieces and a soundtrack specially created for the exhibition
BORN ON 3 SEPTEMBER 1883 IN THE OLD TOWN OF PRAGUE. AFTER COMPLETING HIS STUDIES AT THE IMPERIAL AND ROYAL GERMAN KARL FERDINAND UNIVERSITY IN PRAGUE, HE WAS EMPLOYED AS AN OFFICIAL IN THE INSURANCE INDUSTRY IN THE YEARS 1907–1922; FIRST BRIEFLY AT ASSICURAZIONI GENERALI AND THEN FOR 14 YEARS AT THE WORKERS' ACCIDENT INSURANCE INSTITUTE, UNTIL JULY 1922.
However, he regarded writing as the main task of his life and found it difficult to reconcile with the office work he was performing very diligently. After the outbreak of his lung disease in 1917, he fought the disease in vain for seven years. He spent the last years of his life mostly in health resorts and facilities in Bohemia and abroad. He continued writing even during the years marked by his struggle with the disease.
Franz Kafka died on 3 June 1924 in the Austrian sanatorium in Kierling near Klosterneuburg.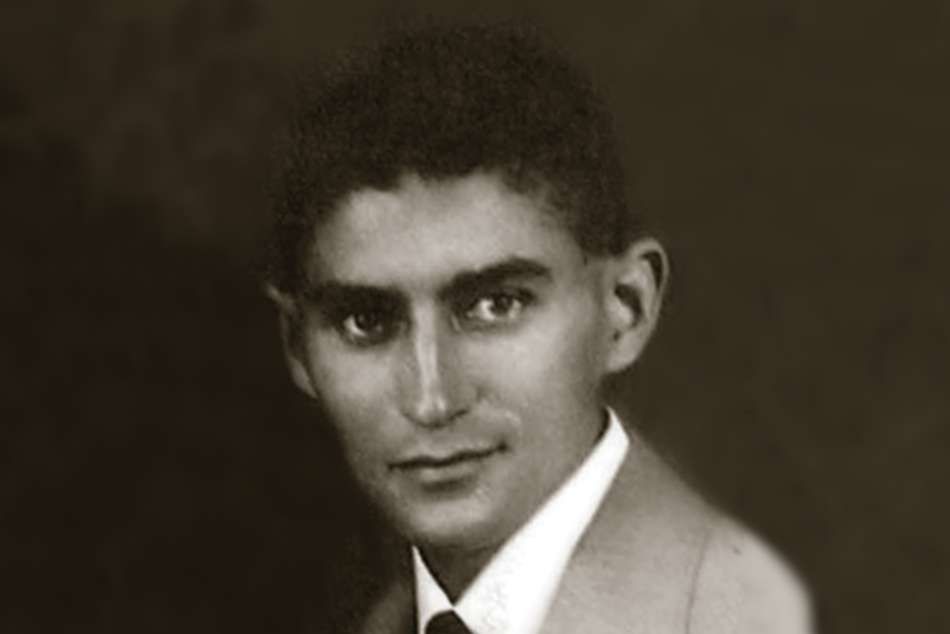 <! ========= Cool Timeline PRO 3.1.1 =========>
1883

Franz Kafka was born in Prague on 3 July as a son of merchant Hermann and his wife, Julia, née Löwy.

1889-1893

Primary school in Masná Street (Fleischmarktgasse). Sisters, Gabrielle, called Elli, Valerie, called Valli, and Ottilie, called Ottla, were born during this period.

1893-1900

Kafka studied at the Old Town German Institute. First friends included Oskar Pollak and Rudolf Illový. The Kafka family lived in Celetná Street (Zeltnergasse).

1901-1905

Higher education at the German University of Prague; first chemistry, then German studies and later law.

1903

Around this year he produced his first stylistic pieces, which were later destroyed. He read Nietzsche. In July, he passed state exams in the history of law.

1904

Autumn / winter: probably, the first draft of Description of a Struggle (Beschreibung eine Kampfes). First regular meetings with Oskar Baum, Max Brod and Felix Weltsch.

1906

He obtained his doctorate in law. In October, he began the year of legal work necessary to practice law as a civil servant.

1907

Wrote Wedding Preparations in the Country (Hochzeitsvorbereitungen auf dem Lande). The family moved to Mikulášská Street (Niklastrasse). In October, he started work at the Prague office of the Assicurazioni Generali.

1908

His first pieces of prose, consisting of eight fragments appeared in the magazine Hyperion. From July 1908 to July 1922, he worked at the Workers' Accident Insurance Institute (Arbeiterunfall und Versicherungsanstalt).

1909

Conversation with the Supplicant (Gespräch mit dem Beter) and Conversation with the Drunk [Gespräch mit dem Betrunkenen] were published in Hyperion. Kafka spent his holiday in Riva (on Lake Garda) with Max and Otto Brod. On 29 September, the Prague daily Bohemia published the tale The Airplanes at Brescia (Die Aeroplane in Brescia). He started to keep a diary.

1910

In the Easter supplement of Bohemia, five prose pieces appeared under the title Reflections (Betrachtungen). He attended Yiddish theatre performances. In the middle of October, he travelled to Paris with Max and Otto Brod. Kafka fell ill and returned to Prague. In early December, he travelled to Berlin.

1911

Kafka spent his holidays by the lake in Northern Italy with Max Brod, and later a period of time at the Erlenbach sanatorium. His interest in Yiddish theatre grew and he made friends with Jizchak Löwy. He was attracted by the vitality of this theatre of eastern origin, perhaps because it was in contrast with the performances of the Prague German companies. From 26 August to 12 September, he and Max Brod, passed through Munich on their way to Zurich, Lucerne, Lugano, Milan, and Lake Maggiore. From Italy they went on to Paris, where Kafka wrote some notes with an exceptional observer's insight. Later they returned to Milan, where they attended plays at the Fossati Theatre. In Paris, they went to see Racine's Phaedra and Bizet's Carmen.

1912

A decisive year for the writer. During the first month he started work on The Man Who Disappeared (Der Verschollene), which Max Brod would later rename as America. Kafka spent the month of July in Weimar with Max Brod. He was introduced to Felice Bauer, with whom he began copious correspondence in October. From November to December, tireless and insomniac, Kafka wrote Die Verwandlung (literally, "the transformation," but known generally as The Metamorphosis). By January 1913, he had written seven chapters of The Man Who Disappeared, the original title of the novel, which for a long time was published under the title of America. In December, he gave a public reading of The Judgment (Das Urteil). The number of pages in Diaries decreased while the letters to Felice abounded.

1913

In Leipzig, Rowohlt published Meditation (Betrachtung), which had been in circulation since November 1912. In January, Kafka travelled to Berlin to meet Felice Bauer's family. In May, made a second trip to Berlin. In September, travelled to Vienna, Venice and Riva.

1915

In January, Kafka and Felice Bauer became closer again. In March, he moved to his own apartment in Dlouhá třída Street (Lange Gasse). Kafka mostly lived with his parents, except for some periods such as those noted and his final days in Berlin. The expressionist playwright Carl Sternheim gave Kafka the Fontane Prize which had originally been awarded to him. In November, Rohwohlt published The Metamorphosis (Die Verwandlung) in Leipzig. The Metamorphosis was offered in bookshops, along with The Judgment.

1916

In July, Kafka and Felice went to Mariánské lázně (Marienbad). He wrote short stories for A Country Doctor (Ein Landartz). In Munich, he gave a reading of In the Penal Colony.

1917

In the afternoon and evening, he worked in Zlatá ulička (Alchemist Street), later taking a room in the Schönborn Palace. In July, he became engaged to Felice for the second time. On 4 September, Kafka was diagnosed with tuberculosis. He took a leave from work and spent time in Siřem (Zürau) with his sister Ottla. In December, in Prague, he broke off his engagement with Felice for the second time.

1918

He travelled to Siřem (Zürau), where he studied Kierkegaard. In summer he went to Prague, in September to Turnov (Turnau) and in November to Želízy (Schelesen). His relationship with Julie Wohryzek, from a modest family, greatly displeased Kafka's father.

1919

A Country Doctor and In the Penal Colony were published. Kafka spent the summer in Prague. He became engaged to Julie Wohryzek. He spent the winter with Max Brod in Želízy (Schelesen). He wrote Letter to His Father (Brief an den Vater).

1920

Sick leave in Merano. Correspondence with Milena Jesenská. Summer and autumn, office work in Prague. He broke up with Julie Wohryzek. He went to Matliare, in the Tatra Mountains, for the following months. He stroke up a friendship with a doctor, Robert Klopstock.

1921

In the Tatra Mountains (Matliare) until September. In Prague for the rest of the year.

1922

January and February in Špindlerův Mlýn (Spindelmühle), then he returned to Prague. He read pages from The Castle (Das Schloss), on which he worked from January to September. He met Milena for the last time. In the spring, he wrote A Hunger Artist (Ein Hungerkünstler) and in the summer, Investigations of a Dog (Forschungen eines Hundes).  He spent the period between June-September in Planá with Ottla.

1923

Kafka spent July in Müritz, by the Baltic Sea, where he met Dora Diamant. He went to stay with Ottla in Želízy (Schelesen). From September to March, he lived in Berlin with Dora Diamant, a Zionist who revived in him the desire to go and settle in Palestine. He wrote some of the narratives that, together with those of the previous year, epitomize the purest traits of his production: A Little Woman (Eine kleine Frau) and The Burrow (Der Bau).

1905

He spent the month of August in a sanatorium in Zlaté Hory (Zuckmantel), Silesia.

1924

Berlin. In March, he left for Prague. He could neither talk nor swallow his food. At the beginning of April he left Prague for the Kierling Sanatorium, accompanied by Robert Klopstock and Dora Diamant. He died there on 3 June. The writer was buried on 11 June in the New Jewish Cemetery in Prague. A Hunger Artist was published that summer.

1914

In June, Kafka became engaged to Felice Bauer. In July, he broke off the engagement. He travelled to the Baltic. From August, he lived alone in Bílkova Street (Bilekgasse). He began writing The Trial (Der Prozess).
Adult: CZK 260
Reduced price for students, seniors and disabled persons: CZK 180
Family Ticket (2 Adults, 2 Children): CZK 650
We recommend you to book a visit with our professional guide (at least 7 days in advance). Our guided tours are available in following languages: Czech, English, German, French, Russian.
Guided tour prices: entrance fee + CZK 800
To enhance your experience, we have produced maps of Franz Kafka's Prague (CZK 60) in the following languages (or as offered): Czech, English, German, French, Spanish, Italian, Russian, Japanese, Korean, Chinese, Turkish and Hebrew.
In compliance with the Act on Electronic Registration of Sales, the seller is obliged to issue a receipt to the buyer. The seller is also obliged to register the sales with the tax administrator online; if experiencing technical difficulties, the sales must be registered no later than within 48 hours since the time of the sale.
[]
keyboard_arrow_leftPrevious
Nextkeyboard_arrow_right
HERGETOVA CIHELNA
Cihelná 2b
118 00 Prague 1 – Lesser Town
Office/shop – Tel.: +420 257 535 373
Exhibition – Tel. +420 257 535 507
Reservations (office, shop): office@kafkamuseum.cz
Opening hours – daily 10 a.m. – 6 p.m.
[]
keyboard_arrow_leftPrevious
Nextkeyboard_arrow_right