During the first six years of his life, Franz Kafka's family moved five times. He had no opportunity to settle down in the microcosm of a neighbourhood. He was born the first of six children on 3 July 1883 in house No. I/27 on the corner of Kaprova and Maiselova Streets in the very centre of Prague's Old Town and on the very edge of the one-time Jewish ghetto. The family moved for the first time during his mother's second pregnancy when Franz was not yet two years old.
The second son Georg was born on 11 September 1885 in house No. 56 on Wenceslas Square; the building, which would nowadays be located in Ve Smečkách Street, has not been preserved. However, in December of the same year, the family moved again to house No. 187 in Dušní St. in the former Jewish ghetto, which was also not preserved. Georg died there at the end of 1886, but another son, Heinrich, was later born in the same house on 27 September 1887. At the end of 1887, the family moved for one year to house No. 6 in the nearby Mikulášská St., where 5-month-old Heinrich also died. In 1888, the Kafkas moved to No. 2 Celetná St., where they stayed for less than a year. In June of 1889, during his mother's fourth pregnancy, the family moved into the Renaissance building known as the 'Minute House' in the Old Town Square, which can still be found there. They lived in the house for seven years, during which time little Franz started his schooling. In the space of three years in the Minute House, Kafka's three sisters were born: Gabriele (Elli, 1889), Valerie (Valli, 1890) and Ottilie (Ottla, 1892). Those continual removals for family reasons, which also reflected the Kafkas' pursuit of greater comfort and the gradual improvement of their economic situation, took place, with one exception, within an area of less than one square kilometre. Other factors undoubtedly included the need to live near Hermann Kafka's shop, as well as their loyalty to the places where Hermann and Julie first settled in Prague and loyalty to local clients.
Franz Kafka spent his childhood years in solitude, surrounded by Czech and Czech-speaking staff: a governess, a cook and a maid-servant. His childhood experience was to become a source of lifelong trauma: he suffered from being left to himself as well as from insufficient parental affection and lack of emotional ties with his parents, who spent their entire days in the shop. He would only ever see them in the evening when they mostly relaxed and played cards in the adjoining room. His father's child-rearing approach was strictly authoritarian and consisted entirely of orders, admonitions and proscriptions which were generally issued at family mealtimes. Admired and feared, Franz's father seemed to him an almighty ruler. It was a feeling that Kafka retained throughout his life. His gentle and fair-minded mother was not strong enough to stand up to her energetic husband and would back him up, albeit often reluctantly. In these circumstances the little boy gradually turned his back on the outside world and created a world of his own in which people and objects, as well as relationships with them were transformed by his imagination that displayed an unchildlike bleakness. A caustic description of his childhood world is provided by Kafka in his (never delivered) 'Letter to His Father'.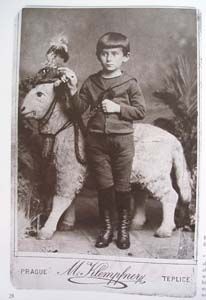 From his early years, Kafka's relationship with his father was a complex mixture of admiration and dejection, escalating from animosity to censure. His father's determination, self-assurance and especially his derision crushed Franz, engendering in him a feeling of inadequacy and worthlessness.
Kafka had to put up with his father's disparaging attitude and lack of understanding for the world around him, as well as his churlish approach to his relatives and employees and entire ethnic groups: Czech, Germans and Jews. Franz nevertheless admired his father's abilities and appreciated his positive traits, convinced that he was essentially a good man. He bore some of the effects of his father's upbringing from his earliest years.
His mother Julie enfolded her son with boundless love, but above all she tried to attenuate the effect of her husband's violent and choleric nature and its repercussions on his son's upbringing. Unfortunately she failed in her role of mediator, proving too weak to mitigate her husband's influence to any great extent.
In Kafka's works there is little evidence of the specific suffering he endured in his early childhood, and the little he put down on paper features his father Hermann as the main protagonist.